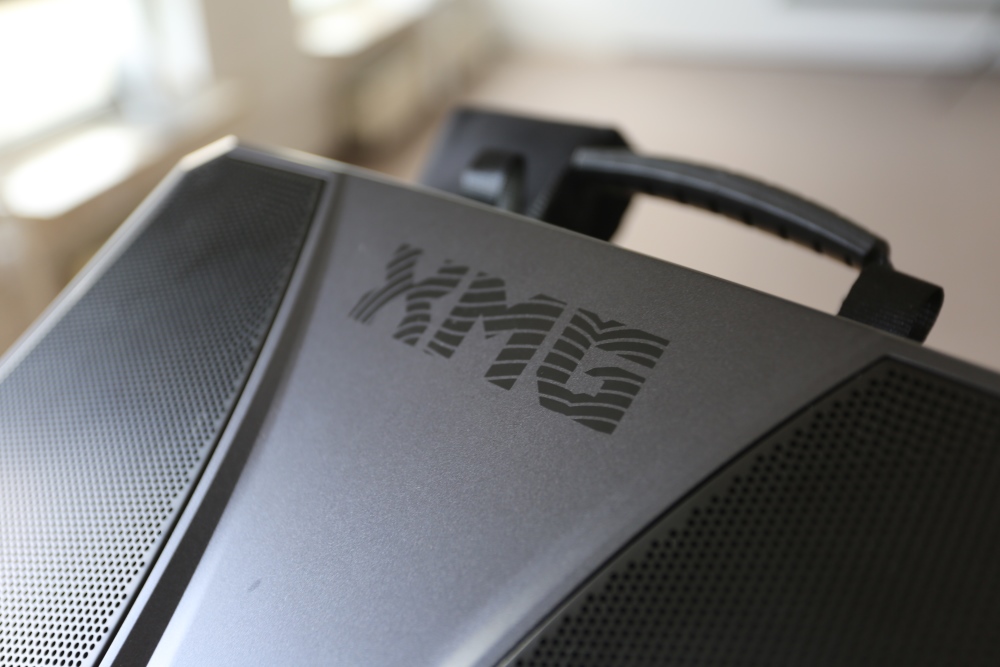 08 Sep

Our very first Illusion Walk with the XMG Walker

Today, something magical happened to us: After a long journey, finally all of the pieces fell into place and our long-nursed vision is getting real! Today, Illusion Walk met the XMG Walker. The XMG Walker is a powerful virtual reality backpack PC and we are excited to be among the first to put our hands on it!

Why is the XMG Walker the right backpack at the right time?
When we started Illusion Walk in 2013, it was clear from the very beginning that we needed a backpack system to achieve the graphics quality that we knew was necessary to create real immersion in virtual reality. We wanted maximum graphics quality combined with full mobility and robustness. However, in 2013 there were no backpacks available on the market, so we began our research to build a backpack PC on our own. We researched laptop and desktop hardware, the power consumption of components, heat development, and how we could assemble all the parts in a way that they would survive the extreme requirements of use cases like VR centers or exhibitions.

We came to a point where we had a working backpack prototype but would still have to figure out how to organize mass production. With the growing VR consumer market in early 2016, backpack VR PCs finally became a thing, and big hardware vendors like MSI, HP, and Zotac presented several backpack solutions. We followed these developments with interest, but still were not satisfied with all the aspects of the various backpacks.

When Schenker Technologies contacted us with the first specs of their prototypes, we couldn't wait to try it out in our Immersive Deck. Last week we finally got them and those XMG backpack PCs were the first (of the consumer version) worldwide to be shipped to a customer! The results of initial tests in our Immersive Deck were fantastic and we can't wait to incorporate the Walkers into our Deck!

GRAPHICS CARD
Schenker Technologies chose the GeForce GTX 1070 8GB GDDR5 as a graphics card. It's VR-ready and delivers reliable and consistent performance without overheating issues or throttling at three times the speed of its predecessors.

BATTERY SYSTEM
The backpack PC not only has great graphics performance, but also a clever battery system. The run time is around 45 to 60 minutes, but due to a hot-swapping system, uninterrupted use is possible.

WEIGHT
Between the different backpacks we tested and our own backpack development, the XMG Walker is a true lightweight: With just 2.7 kg empty and about 3.8 kg including straps, padding, and two batteries, it's comfortable to wear on your back and after just a few minutes, you'll forget you're even wearing it!

CASE
The case looks robust and stylish and is quite flat, plus it has enough ports to connect all our peripherals.

CONCLUSION
We are excited to have such a great supplier with us and we absolutely love the name "Walker"! It goes with our approach of walking freely in a virtual reality, and it's here at the right time for the start of our beta test.
XMG WALKER TECHNICAL SPECIFICATIONS
DIMENSIONS
315 x 410 x 57 mm (W x D x H)
WEIGHT
ca. 3.8 kg including straps, padding, and two batteries
BATTERY
Lithium ion batteries, 99.36 Wh, 14.4 V, 6900 mAh, 8 Cells, with a run time of 60 minutes for each pair
CHIPSET
Intel HM170 Express
PROCESSOR
Intel Core i7-6700HQ – 2,6 GHz – 3,5 GHz 6 MB 45 W
GRAPHICS
NVIDIA GeForce GTX 1070 8GB GDDR5
Features: VR-Ready, NVIDIA G-Sync, NVIDIA CUDA, NVIDIA PhysX, NVIDIA GPU Boost 3.0, NVIDIA Ansel, DirectX 12, OpenGL 4.5, Vulkan 1.0, OpenCL 1.2
MEMORY
2 x 260 Pins SO-DIMM Socket with support for DDR4
Dual Channel, upgradeable up to 32 GB of memory
SSDS
1 x m.2 2280 SSD via SATA-III or PCI Express x 4
1 x m.2 2280 SSD via SATA-III
The m.2 slot can be operated as RAID 0/1 in SATA mode
SOUND
High Definition Audio Codec
CONNECTIVITY
2 x USB 2.0 Type-A
3 x USB 3.0 Type-A
1 x USB 3.1 Gen 2 Type-C
1 x HDMI 2.0
1 x Mini DisplayPort 1.3
1x WiFi 802.11ac + Bluetooth 4.2
1 x Headphone output
1 x Microphone input
1 x 12 V DC-out Power supply for VR HMD or accessories
1 x DC-in
1 x RJ45 Port
1 x Power button