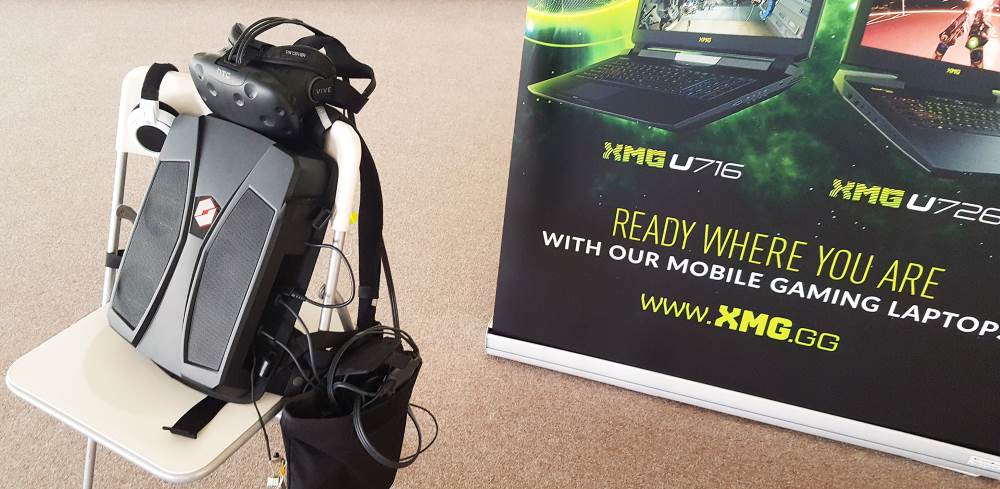 14 Jul

Schenker XMG @ Illusion Walk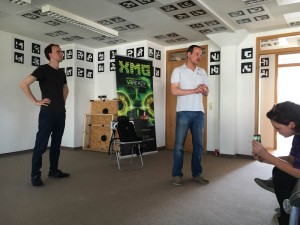 Before the official launch later this year, Schenker Technologies* has exclusively presented its new XMG VR Ready mobile backpack technology in our recently opened office today. It was a great meetup where VR professionals from all over Germany were able to test the Schenker backpack. But that was not all: For the first time, external professionals could test our Immersive Deck, walking seamlessly from room to room in our virtual reality office prototype while also testing our demos.
With the newest generation of Nvidia graphic cards and high-end PC technology (i7 6700HQ), this backpack brings us the best possible and most flexible solution for our Immersive Deck experience. In combination with our Triple Track technology, you will be able to walk around large-scale rooms without any cable while high quality graphic scenes are being rendered, and this for 40 to 60 minutes. The backpack is supplied with power by two Lithium-Ion batteries that yield 2 x 100 Wh and can be hot-swapped, meaning the system needs no reboot, so you can change one battery after another while playing on. A recharging unit for the batteries will be included. Another highlight is its surprisingly low weight of under 3 kg – a real lightweight that we almost didn't feel on our backs. We will definitely be the first who order the backpacks as soon as they ship!
Also, since the feedback was so overwhelmingly positive and we had very fruitful technical discussions in an absolutely fantastic atmosphere, we plan to add to the great VR community in Berlin – with well-established events like the "Berlin VR Meetup" and the "Berlin Developers Meetup" – and host regular meetups here at Illusion Walk, focusing on Large Scale VR and Holodeck development. We believe it is important for the VR developer scene in Berlin to share knowledge and best practices of VR development, and we consider us part of this community. We will follow up with more details soon!
*Schenker Technologies places special emphasis on always integrating the newest and most powerful components in its mobile devices. This is how XMG and SCHENKER laptops have distinguished themselves as world-class high-tech products. Schenker notebooks have always been considered the premier in the price-performance ratio segment.